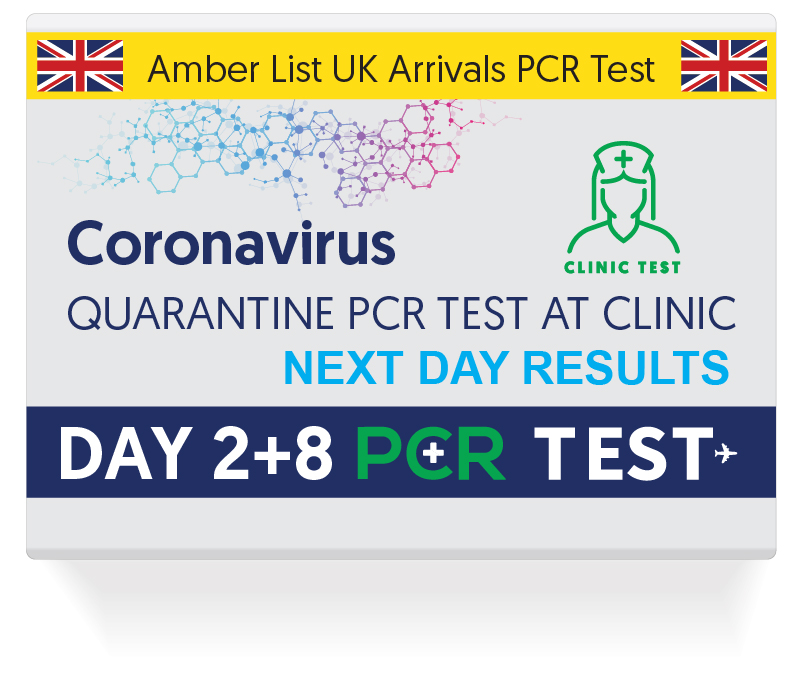 Day 2 and Day 8 Quarantine PCR Swab Test
International arrivals to England must quarantine for 10 days. You must take a PCR test on or before day 2 of your quarantine period and a test on or after day 8 of quarantine period. You must provide that proof of purchase upon arrival in UK we offer complete package offer of the day 2 & 8 at our clinic or a home test kit delivery.
Description
GUIDELINES
As per UK Government guidelines, all international arrivals to England must quarantine for 10 days (unless exempt) and are required to take a PCR test on or before day 2 (of their quarantine period), for variant surveillance, and a PCR test on or after day 8 (of their quarantine period). For more information, please check the UK government website here.
Please follow the below guidelines when ordering your PCR Day 2 & 8 Test Kit:
Order your test kit directly from us or book an appointment prior to arriving in the UK – We recommend purchasing before you leave the UK on your travels.
Ensure you fill out the registration process with all the details required during the checkout.
[Appointments] When you book in clinic test, you will receive appointment confirmation.
[Home Delivery] Tests will be sent to the Home Address you provided unless you provide an alternative Isolation Address. In that case the tests will be sent to your isolation address.
Free Shipping and pre-paid return shipping labels included.
You will be provided a unique code (CDIAG2000000) in your confirmation email which will need to be referenced in your UK Passenger Locator Form before you arrive to the UK.
It is vital you register your test before entering the UK as the information is required for UK border entry.
The day you arrive back in the UK is classed as day 0. The information in the test-kit will detail what you are required to do on Day 2 and Day 8 of your quarantine.
Cut off time for dispatch is 5pm Monday to Friday. If you are ordering on the same day you are arriving to the UK and order after 5pm, then your order will be dispatched the following working day.
Results are provided the next day from when received at our laboratory (please note this may take up to 48 hours due to high volumes). For quicker turn-arounds – customers can contact us and book an appointment to have any of their swabs taken at our clinic by a Healthcare Professional for a extra charge.
Important Information:
Please be aware that this service relies upon the efficiency of the postal service schedule. This may result in delays in getting your results. For example, if your Day 8 of home quarantine lands on a Sunday, you may not receive your results until Day 11 due to postal schedule. We do not accept any responsibility for disruption with postal services.
"If you have been in France within 10 days of entering England, you must have a booking for both a Day 2 and a Day 8 test. You must also quarantine at home for 10 days. This applies whether or not you have been fully vaccinated. Please be aware this measures includes those who have travelled through France to reach their transport to the UK*
*except where operators have made arrangements compliant with the public health regulations that allow for transit. Please check with your operator."