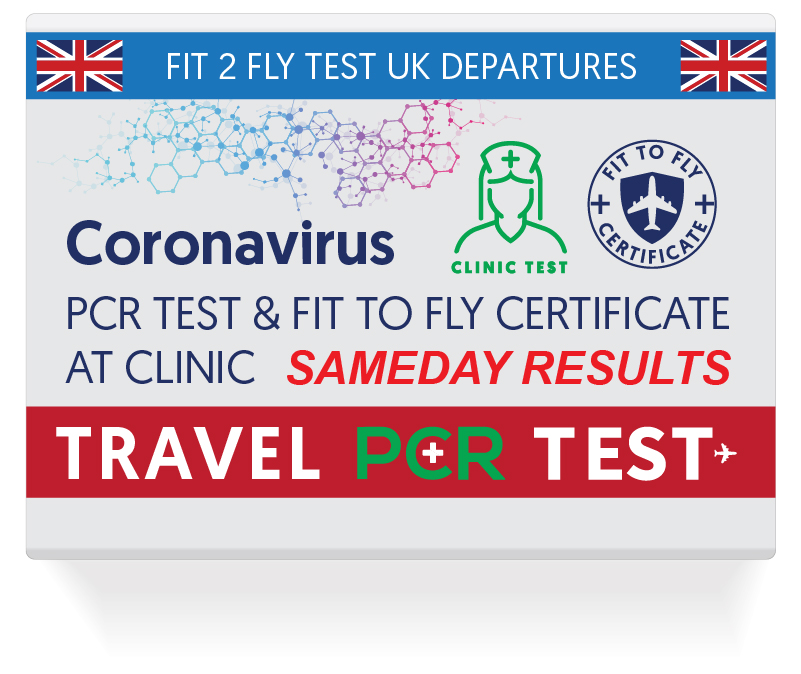 Coronavirus Same Day Result PCR Swab Test with Travel Certificate
Book this test before 3 PM to get your Fit to Fly certificate on the same evening. The result will be sent to you by midnight* via E-mail.
Description

- We charge £25.00 for Japan form signed & stamp by doctor, this can be paid at time of booking.

This is an on-site test only and has to be performed by 3 pm to get your results the same day. All swabbing costs are built into this price; there is nothing extra to pay.
Find out if you currently have COVID-19 with fast results through our UKAS approved PCR Swab Test.
Travel Test for outbound flight
Same Day Results
Easy online flexible booking
UKAS & PHE Approved Lab
Free PDF Travel Certificate
A PCR Swab Test detects the presence of the RNA of the virus itself. This means that it will pick up the presence of the actual virus in the nose and throat, and is 100% sensitive at detecting any trace of the virus.
Once your sample has been processed, you will then receive your results via email with certification from a doctor by midnight.
To get tested, Book your PCR Swab Test today and select the type of testing before 3 PM.
How do I get to clinic?
The Clinic is located a minute walk from London's Finchley road Underground station. There is paid car park nearby the Clinic.
How to contact Clinic out of hours?
If you have not received your Same day results by 10 PM, Please email us at hello@pcrtest.co.uk , One of our admin staff will reach out to you as soon as possible and resolve the query that you may have.
'Sameday' results definition – These are not available for self swab / home kits . These are in clinic appointments only. Results are issued to the email that the customer specifies whilst purchasing the test (registered email) and confirms when having the test, by midnight* on the same day that the sample is taken. We recommend that your travel date should be the day after you receive your result.
*Our laboratory(ies) will do endeavor to deliver before midnight but in a very small number of instances you may receive your results a short time after midnight up to 2am. This occurs very rarely.