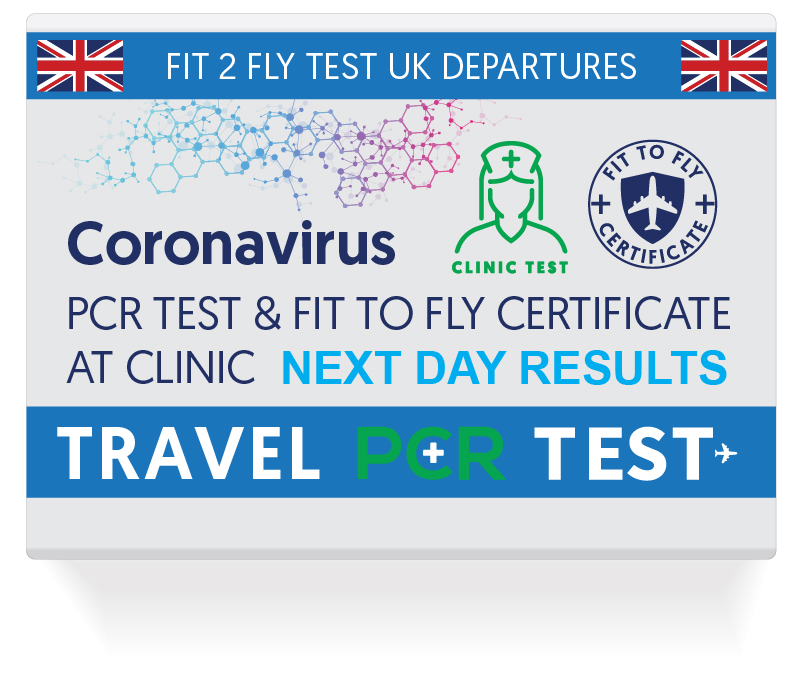 Coronavirus PCR Swab Test with Travel Certificate
This Test is to identify if you currently have the Novel Corona Virus infection. Fit to Fly certificate available with negative results next day by midnight.
Description

- We charge £25.00 for Japan form signed & stamp by doctor, this can be paid at time of booking.

Find out if you currently have COVID-19 with fast results through our UKAS approved PCR Swab Test. 
Travel Test for outbound flight
Easy online flexible booking
UKAS & PHE Approved Centre
Free PDF Travel Certificate
Travel Certificate: The PCR Test includes a Fit To Fly doctor certified report which is regularly used for travelling purposes with airlines. We recommend you double check with your airline to confirm the requirements. 
A PCR Swab Test detects the presence of the RNA of the virus itself. This means that it will pick up the presence of the actual virus in the nose and throat, and is 100% sensitive at detecting any trace of the virus. Once your sample has been processed, you will then receive your results via email with certification from a doctor. 
Clients purchasing this package will be swabbed by a healthcare professional at our facility. Our testing is facilitated by UKAS & PHE approved Medical Laboratory. 
Test Results: Your results will be available  next day before midnight. 
Test Preparation: 
Please make sure you don't eat, drink or chew gum at least 30 minutes before you take the mouth and nasal swab test. Doing this can contaminate your sample, which may result in it needing a retest and therefore, delaying your result. Also, if you are requesting a test for a fit to fly certificate and would like your passport number on the result form, please bring in your documentation to your appointment, or write your passport number on the test request form. – 
Parking is available at Sainsbury Car Park.

 

Masks must be worn. We can provide one on arrival.

 

For safety reasons, our washrooms are currently not available.

 

For safety reasons, only the person receiving the treatment is allowed in.