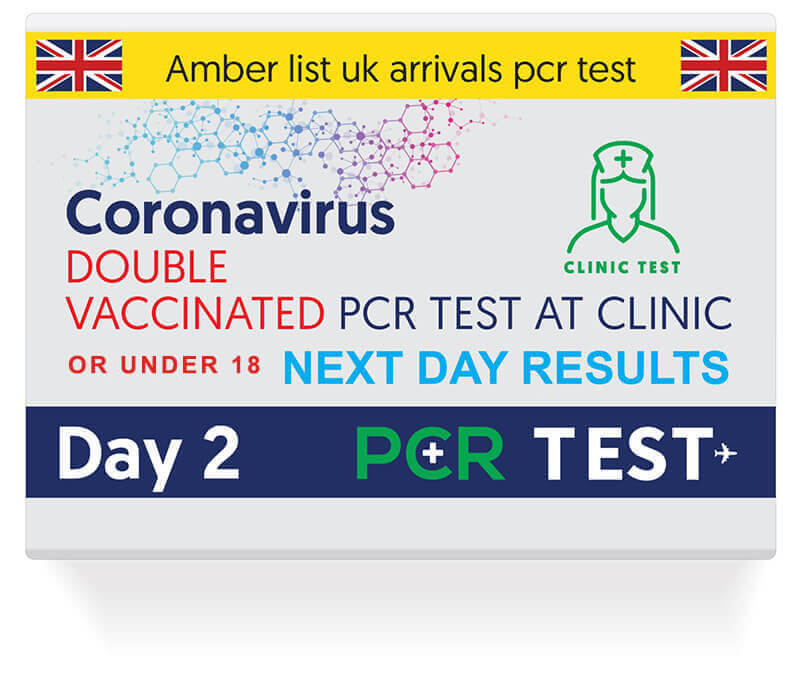 Amber Day 2 Double Vaccinated PCR Swab Test
This is an RT-Pcr test for inbound travel to the UK from the Amber list countries for travellers who are double vaccinated in the UK, US or EU at least 14 days before arrival. (OR UNDER 18)
Description
From Monday 19th July 2021, if you are a fully vaccinated UK resident with an NHS administered vaccine and are returning from countries on the amber list you will not need to isolate in quarantine on your return. However, you will still need to take a PCR test on or before Day 2 after you have arrived in England.
*except where operators have made arrangements compliant with the public health regulations that allow for transit. Please check with your operator."
Fully vaccinated means 14 days have passed since your final dose of the vaccine. 
Please note that if you arrive from an amber list country and you are not fully vaccinated UK Resident you still need to purchase a Day 2 & 8 test for arrivals from amber list countries.
Children aged 5 to 18 will need to do a Day 2 PCR. Children aged 4 and under will continue to be exempt from any travel testing.
Your arrival date is classed as day zero and you can take the test on day 0, 1 or 2.
The PCR swab test itself is 100% sensitive in detecting the presence of the RNA of coronavirus and will pick up the presence of COVID-19 in your nose and throat. You do not need to quarantine unless the test result is positive.
Prior to travel, please simply follow the steps below:
You need to order or Book an Appointment and pay for this test before you are due to arrive in the UK. The day you arrive in the UK is your day 0 and you can conduct your Day 2 test on or before day 2.
You will then be given a unique code to reference (e.g. CDIAG1234567) when you fill out your UK government passenger locator form before you arrive in the UK.
It is vital you register your test before entering the UK as the information is required for UK border entry. 
If you do not receive your confirmation email after this booking, please check your spam or junk email before contacting us.
Please remember to register your test before entering the UK to obtain your CDIAG code.
"If you have been in France within 10 days of entering England, you must have a booking for both a Day 2 and a Day 8 test. You must also quarantine at home for 10 days. This applies whether or not you have been fully vaccinated. Please be aware this measures includes those who have travelled through France to reach their transport to the UK*
*except where operators have made arrangements compliant with the public health regulations that allow for transit. Please check with your operator."